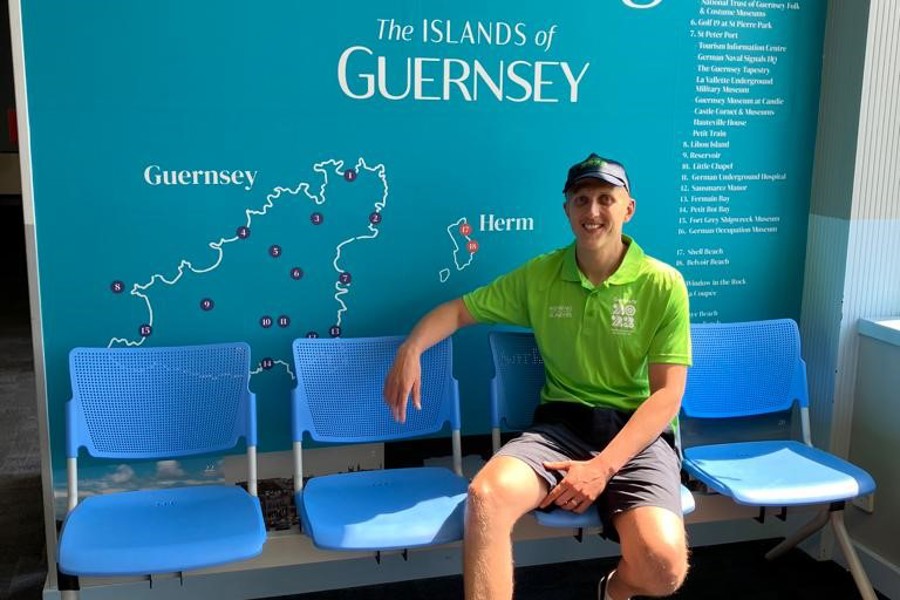 Alex ensures warm welcome for Games athletes
As one of the official sponsors of the Guernsey 2023 NatWest International Island Games, we're excited to welcome the thousands of athletes due in the island next month and to enjoy a week packed with exciting sport.
Sharing our anticipation is our very own Alex Smedley who is getting stuck into proceedings as a Games volunteer. We caught up with Alex to find out more about his role and what he's been getting up to…
What is your volunteering role and what does it entail?
I'm the Games' Welcome Team Lead, so my involvement started a while ago. My job is essentially to ensure a pleasant, smooth and warm welcome to the island for all our visiting teams, as well as a seamless departure . This has involved working with the airport and harbour on the implementation of processes needed for the expected influx of attendees, including organising a team of volunteers to assist in the efficient transfer of all arrivals (and all their luggage, bikes, golf clubs, firearms(!) etc.) to and from their accommodation. I've also been supporting the logistics team in coordinating volunteers at the opening and closing ceremonies, and simply throwing my hat into the ring to help out and be involved in any way I can.
Why did you want to get involved and how will your career background support you to play your role?
I have a degree in event management and, prior to working in the world of finance, I spent a number of years working as an events manager delivering large scale international events for a number of global brands. So when I heard the Island Games were coming to Guernsey with up 3,500 attendees, I just knew it was something I had to be involved in! I have valuable experience coordinating teams, arranging logistics, managing budgets, completing risk assessments, and efficiently executing proceedings. And while my role now doesn't require event management, it has further developed my management skills and honed my methodical approach to organising complex projects.
What are you most looking forward to about the Games?
Back in July last year, I worked on the International Island Games Association inspection event, which saw all the island representatives come together to recce the venues and discuss logistics. The atmosphere throughout the event was one of pure excitement, especially from Gozo representatives whose athletes are competing for the first time. I can't wait to see and meet so many people from all different backgrounds enjoying what Guernsey has to offer.
Find out more about the 2023 Games.
Please note that this article is intended to provide a general overview of the matters to which it relates. It is not intended as professional advice and should not be relied upon as such. Any engagement in respect of our professional services is subject to our standard terms and conditions of business and the provision of all necessary due diligence. © Praxis 2023