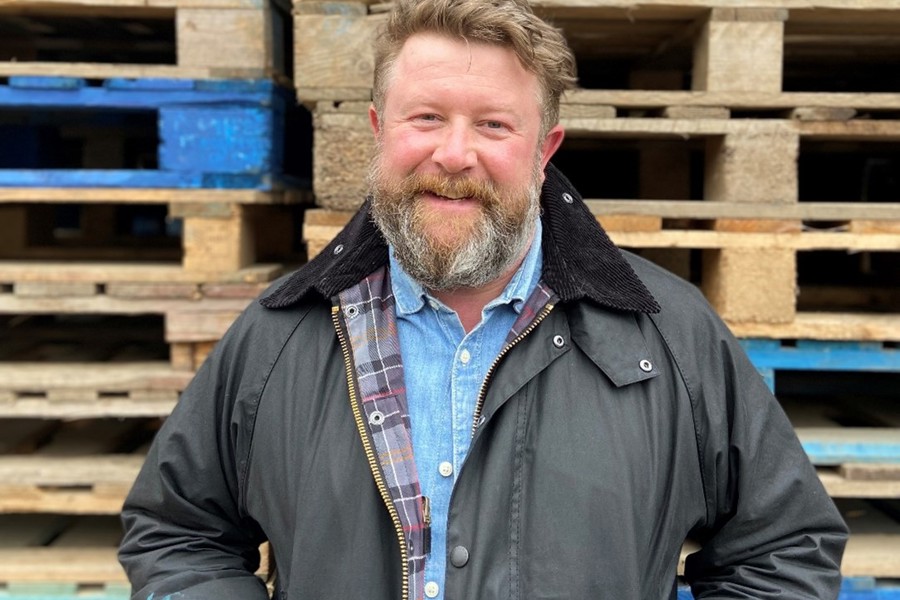 Coming out of his shell – meet the artist behind our tortoise
Praxis is turtle-y excited to be supporting Durrell's Tortoise Takeover in Jersey.
Come summer 2023, 50 uniquely designed giant fibreglass tortoises will take over Jersey's wild places, coastal vistas and urban hangouts to be explored and enjoyed by the public before being auctioned off in aid of a new amphibian and reptile house at Jersey Zoo.
As one of the project's valued sponsors, we have our very own tortoise that is being transformed into a stellar (but top-secret for now!) design by local artist Mike Harris. We caught up with Mike to hear all about his creative background and his inspiration for the tortoise.

How did you start your career in art?
After finishing University at Falmouth School of Arts, I stuck around and continued to immerse myself in the local music scene creating gig posters, album covers and visuals for huge dance events. We even started promoting our own nights including large scale 'free parties' on various beaches across the South West. On returning to Jersey I started leaning into graphic design and found myself a job web designing for a local agency. It was at this time myself and few friends set up the Groove Collective, a non-profit organisation that created the formidable Groove De Lecq Festival.
Where does your passion for art come from?
Art was always something that I seemed to just 'get', I always enjoyed it throughout school and got a lot of inspiration through music and film. By the time I got to art school the rest is history - albeit with a few bumps in the road. Inevitably there is never a simple journey to supporting yourself in the creative industry, it usually involves multiple 'other' jobs until you are sure you can afford to pay the rent.
How do you describe your signature style?
Coming from an illustration degree, my style is certainly different to many other designers out there. Crisp edges are nice but I think I've always liked a hand drawn aesthetic if I can work it in. I am lucky to have some great clients that let me flex my creativity in interesting ways which separates me from the crowd. As for my painting style, I like to create strong compositions with punchy bright colours that create contrast on the surface of each piece, mixing traditional mark making and more graphical elements.
Why did you get involved in the Tortoise Takeover project?
Durrell is one of the greatest jewels in the island, yet it also has a global significance with the conservation work it does. Having the chance to raise a good chunk of money for them is a no-brainer. The added opportunity to get to work alongside some great artists from Jersey and further afield is to too much to miss. I'm really pleased Praxis chose my design – it's great to know that your work is being supported by a company that aligns with your own values and is taking its commitment to the environment seriously.
What inspired your design?
At the time of creating the design I was actually off-island and lucky enough to be on safari in Botswana, Africa. Completely immersed in some of the wildest sights and sounds on the planet, it was incredible to say the least. You can clearly see some of the influences on the design, from the night sky and sun-setting clouds to some of the flora and fauna of the area. I have chosen to represent some of Durrell's successful conservation projects in the star constellations - the ring-tailed lemur, the red-billed chough, the pygmy hog, Geoff the Otter and of course the mighty gorillas.

We can't wait to see the finished design; the Tortoise Takeover will go live in Jersey on 1 July 2023 and will run until the end of August 2023. Until then Mike's genius artwork and the tortoise's location will be kept under wraps.
Please note that this article is intended to provide a general overview of the matters to which it relates. It is not intended as professional advice and should not be relied upon as such. Any engagement in respect of our professional services is subject to our standard terms and conditions of business and the provision of all necessary due diligence. © Praxis 2023