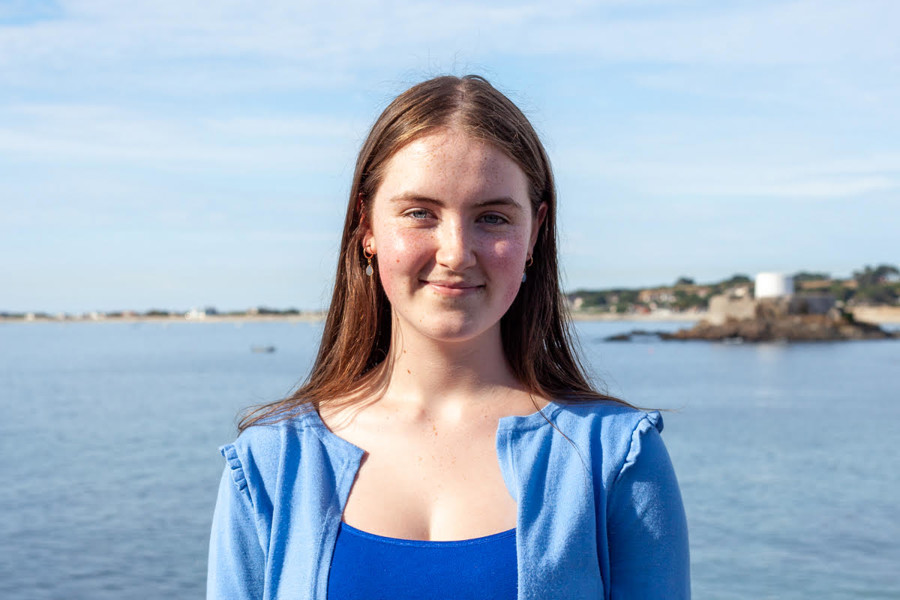 Meet our 2022 bursary student – Caroline Carter
Each year we offer one student the opportunity to gain valuable workplace experience through our annual Guernsey Bursary Award. Now in its fifth year, the scheme provides students the chance to explore our industry and the wide range of roles available – all while being supported with their degrees.
Former Grammar Sixth Form student Caroline Carter was awarded our 2022 Bursary and has just completed her first term at university. Before she heads back to the books, we caught up with her to hear all about her studies and career aspirations.


Tell us a bit about yourself.
As of September, I became a student at Leeds University, where I'll be spending the next three years working towards a joint honours degree in Philosophy and Politics. The course will allow me to learn more about the development of political thought in different parts of the world and how those have all come together to create the political systems and global politics that we see today. It will also give me the opportunity to think critically about fundamental questions as well as abstract concepts that really test your philosophical thinking skills. I'm really enjoying it so far and look forward to starting my modules for next term, particularly my chosen one that focuses on the challenges of global development.
My interest in the subjects really took hold during my A-Levels, especially while studying Geography and Religious Studies, which I took alongside Psychology and Spanish. The pandemic and subsequent lockdowns created a lot of uncertainty during my final two years at school, but it allowed me to challenge myself and really take my studies into my own hands. At the end of it all, I was very proud of the results I achieved.

After my A-Levels, I wanted to keep my brain active and learn new things, so, alongside my summer work, I started to teach myself the trumpet! Having never played a brass instrument, it was definitely a challenge to figure it all out. But I've settled right into the brass band at university and have made it through a few concerts already, so I'd say I'm doing pretty well thus far!

Where did your interest in financial services come from?
Living in Guernsey I've always been aware of the financial services industry but when I started to think harder about my future career and began exploring different industries, roles and opportunities, I realised that I knew relatively little about it! I feel it's an important area of expertise for an individual, both in the workplace and otherwise, so was keen to expand my knowledge and demystify some aspects of the sector. On top of this, I think having a clear understanding of the financial aspects of a business and being economically minded is valuable in any job or sector.


What are you hoping to get out of your experience in the financial services industry with Praxis?
I would like to develop my soft skills, particularly communications – and I'm hoping to observe best practice in regard to professional etiquette as well as interacting effectively and efficiently with colleagues and clients. Being in the office, I will be able to experience office life and get used to its rhythms, which will be an essential foundation for my working life.

The bursary is also a great opportunity to gain practical work experience in a completely new field that I haven't had much exposure to previously and that is not part of my degree. I'm eager to dive head-first into the world of finance, learning about economic practices and business management, which will help me in both my personal and professional life.

Do you have any particular career direction or aspirations you're working towards?
I'm interested in a career in sustainability, perhaps aiming for qualifications in environmental law or global development, so I am hoping to learn more about green finance and how this fits into the bigger sustainability picture during my bursary. However, I'd like to use my time at university to explore different careers paths and subject areas.
Please note that this article is intended to provide a general overview of the matters to which it relates. It is not intended as professional advice and should not be relied upon as such. Any engagement in respect of our professional services is subject to our standard terms and conditions of business and the provision of all necessary due diligence. © Praxis 2023
Please note that this article is intended to provide a general overview of the matters to which it relates. It is not intended as professional advice and should not be relied upon as such. Any engagement in respect of our professional services is subject to our standard terms and conditions of business and the provision of all necessary due diligence. © Praxis 2023