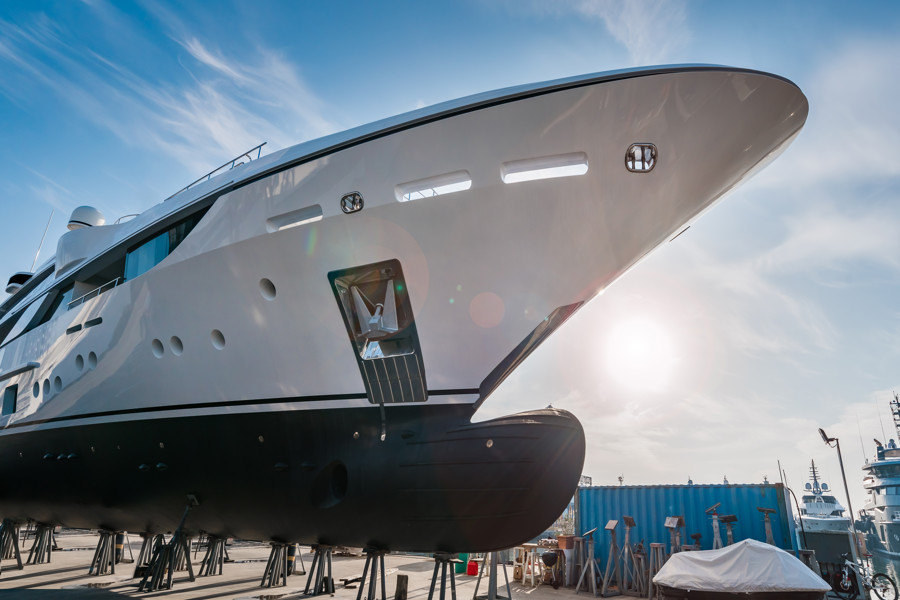 Shipyard Works - Insurance Limitation for Superyacht Owners
30 October 2023
. By Bruce Maltwood.
As we head into the annual winter works season Director Bruce Maltwood looks at how high-profile fires in yards and marinas have had an impact on superyacht insurance cover.
The shift in yacht ownership dynamics
Over recent years we've seen a shift away from yacht owners contracting directly with the shipyard for all works, with some shipyards now renting yard space and lifting yachts in and out of the water, along with providing hard standing. The shipyard (or the owner) then facilitates various smaller contractors to undertake works for the yacht owner, but this change in contracting arrangements has resulted in issues over lack of clarity on insurance cover for contractors and yacht owners alike. A full understanding at the outset is critical when mapping out and clarifying who you, or the owner, is contracting with and what documentation is needed for insurers as well as for your records.
Understanding insurance policy clauses
An insurance policy is likely to contain a clause related to a shipyard period or refit, repair and hot works clause which says that whenever the vessel is contracted to undergo any refit, repair or hot works the owner must ensure that the yard and/or other contractors carry current and operative liability insurance indemnifying the yard and the yacht owner for all liabilities up to at least the lesser of the insured value of the vessel or a fixed amount which can be reduced in respect of contractors. Ship Repairer's Legal Liability policies can have limits that are in the aggregate, and this is one we recommend watching out for.
If your insurers advise that a yard period does not need to be declared, it may be good practice to request details of the documents that would be required in the event of a loss related to a yard period, just so that they can be obtained and held on record, in case of any incidents.
Contractual limitations and their impact
Contracts between the owning company and the yard may contain limitations that could affect the insurance. Limitations of liability, perhaps to the value of the works, rather than the value of the yacht, are common and are often hidden in a contractual document. An understanding of what your contracts contain with regards to the insurance and limitations should not be overlooked.
In Summary
There can be an extensive amount of work that needs to be undertaken analysing insurance documentation along with contracts and the responsibilities placed on all parties. Captains or owner's representatives would be wise to not sign such contracts before a review is undertaken.
When planning yard time, captains and owners should consider the above points and build in sufficient review time in advance of any yard works.
Please note that this article is intended to provide a general overview of the matters to which it relates. It is not intended as professional advice and should not be relied upon as such. Any engagement in respect of our professional services is subject to our standard terms and conditions of business and the provision of all necessary due diligence. © Praxis 2023