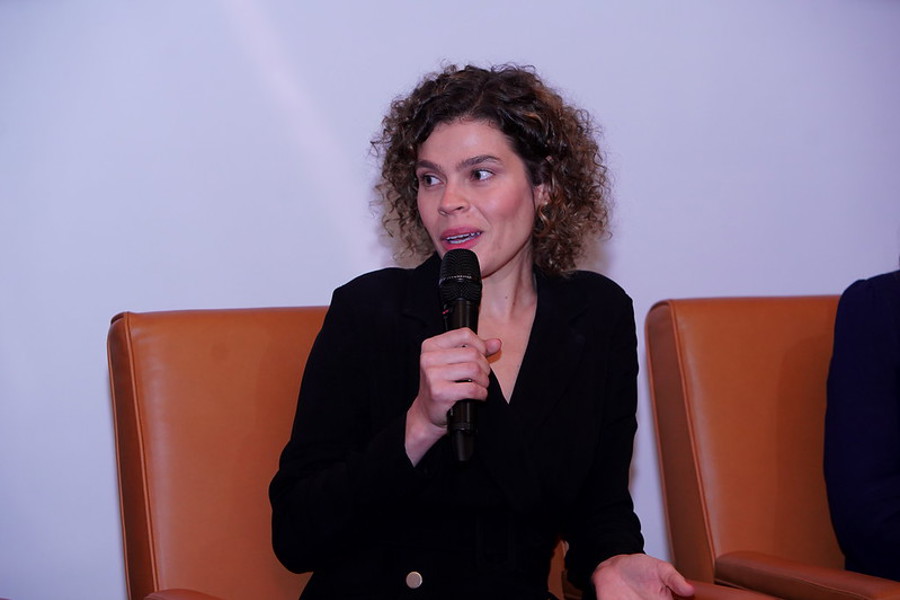 Women in Leadership: Insights from Kamar Alameddine on Financial Services in the UAE
Jersey Finance recently hosted the Praxis-sponsored Perspectives: Women in Leadership event which this year heard from a panel of female business leaders discussing their experiences and insights on the financial services industry.
Featuring on the panel was Kamar Alameddine from our Abu Dhabi Global Market (ADGM) office. We spoke with Kamar on what it is like for women building a career in the UAE.
How did you come to be part of the Praxis team in the UAE?
I started my career journey after completing my bachelor's degree in banking and finance in Lebanon. I travelled to Dubai with the intention of staying for about two years, but 15 years later I am still here and consider the UAE home, where I have gained more than 10 years' experience in compliance and anti-money laundering in the Dubai International Financial Centre and Abu Dhabi Global Market.
In my current role in Praxis, I provide outsourced compliance and AML services to a diverse range of clients, including financial institutions, funds, established businesses and start-up institutions, and multi-national corporations.
Have you noticed an increase in the number of women working in the industry?
The gender balance of clients, advisers and intermediaries in the UAE can vary, and depends on various factors such as cultural norms, industry trends, and individual preferences. From a client perspective, the ratio of female clients compared to male clients is noticeably lower in the financial industry. However, there are more women working as compliance officers than men.
The UAE government has introduced initiatives to promote gender equality and empower women in different sectors with the aim of providing women with equal opportunities to participate in decision-making processes and leadership roles.
Do women have a different attitude towards business?
There is research that suggests women have a greater emphasis on environmental, social, and governance considerations and philanthropy.
So, in broad terms women tend to prioritise ESG factors when making business decisions and are more concerned about the impact of business activities on the environment, social issues, and corporate governance practices. They can often also focus more on sustainable growth and tend to avoid excessive risk taking and prioritise building relationships with colleagues and the community.
Collaboration and inclusive decision-making processes are often highly valued by women in business, leading to more diverse and varied perspectives. Praxis really values diverse teams and supporting different voices to ensure they are heard and respected, which leads the business to make better, informed decisions.
How can women support each other more?
Mentorship programs are effective in supporting women in the workplace. Experienced women can offer guidance and advice to newer, less experienced colleagues to help them navigate their careers. Also, sponsorship involves advocating for women's advancement within organisations and actively promoting women's achievements.
Building each other up in the workplace is so important. Networking and building strong professional relationships often result in increased opportunities and leads to sharing resources like job openings or educational opportunities.
Are there any support initiatives in place at Praxis?
Promoting work-life balance is vital for women to succeed. Supporting policies that promote flexibility and parental leave make for a positive working environment. At Praxis we have a great flexible working policy that allows for regular working from home, staggered start and finish times and other initiatives that support our team. This policy means I can pick up my kids from school every day and work remotely from home whenever needed.
Praxis is brilliant in recognising the challenges that women face in workplaces around the world, including gender bias, limited access to senior-level positions and work-life balance responsibilities, and is always working towards creating a supportive an empowering work environment.
What piece of advice would you give your younger self?
Believe in yourself and have confidence in your abilities and embrace failure and learn from it.
Also, build a supportive network and continuously learn and grow.
Moving on from women in the workplace, what private wealth and corporate services work is Praxis doing in the UAE and what private wealth trends are you seeing there?
Since Praxis was granted the first trustee licence from the ADGM Financial Services Regulator Authority back in 2016 we have seen our business grow in line with the region's development as an international finance centre.
The UAE has implemented strict regulations to align with international AML standards by enhancing its due diligence requirements and introducing more stringent reporting obligations.
There is more of an emphasis on a risk-based approach, with financial institutions being encouraged to assess and mitigate risks associated with money laundering and terrorist financing.
We are seeing increased regulatory oversight, with regulatory bodies here intensifying their enforcement activities to ensure compliance with AML regulations, and finally, the UAE is increasingly active in collaborating and cooperating with international counterparts to combat trans-national crime.
This article constitutes neither professional advice nor a binding offer by us to provide professional services. Any engagement in respect of our professional services is subject to our standard terms and conditions of business and the provision of all necessary due diligence.