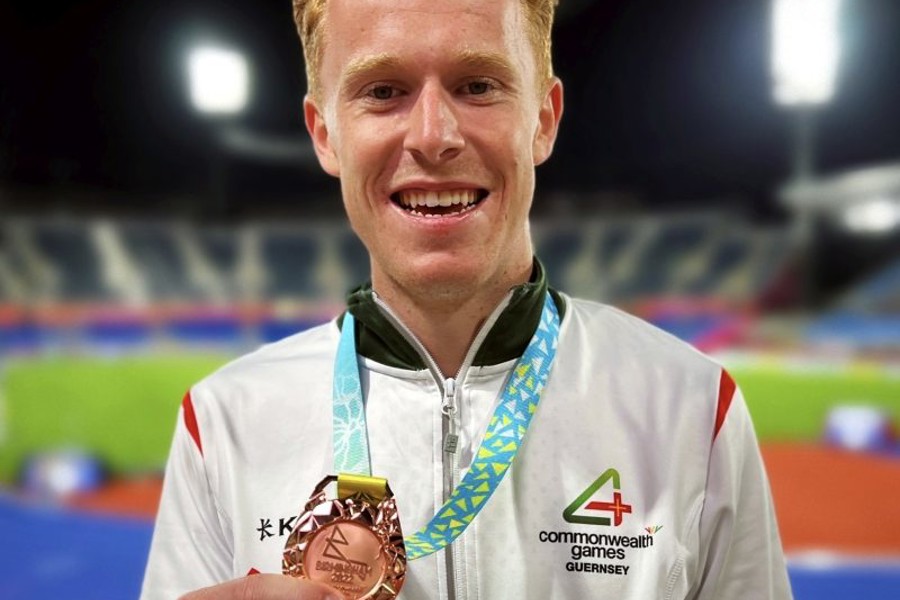 Ala on track for another landmark season
After his most successful season to date, topped off by making history as Guernsey's first-ever track and field medallist at the Commonwealth Games, 400-meter hurdler Ala Chalmers has extended his partnership with longstanding sponsor Praxis. The agreement covers the 2023 track season, in which Ala is aiming to cement his reputation as one of Britain's most promising young athletes.
The locally-headquartered group has supported Ala since 2018 and, in the company of sports brand Puma, helps fund travel, competitions, coaching and kit expenses for the elite athlete.
Ala said: 'Being a sponsored athlete in athletics is a very rare thing, so I'm extremely grateful to have not one but two amazing sponsors. Praxis has been an incredible partner in my running career. I've met so many lovely people through the partnership and I always look forward to catching up with them when I'm back home. Without support from Praxis and Puma, paying for my coach, accommodation, training camps, travelling around the world, none of it would be possible, so I'm incredibly appreciative of their continued support.
Rob Fearis CEO of Praxis said, 'Throughout our sponsorship we have had the honour of watching Ala develop into a world-class athlete and it has been our pleasure to support him on that journey. He is not only flying the flag for Guernsey on a global stage but also inspiring a new generation of athletes. We look forward to continuing to cheer him on throughout 2023, hopefully in Guernsey in the summer at the Island Games which Praxis is also sponsoring.'
Having just returned from a training camp in Tenerife, Ala says he's running better than ever and has an exciting calendar of competitions lined up. 
'I've got three big competitions in the calendar this year: the British Championships at the start of July, the Island Games straight after and then hopefully the World Championships in Budapest in August. I need to run 48.70 seconds to qualify for Team GB for the World Championships, so the standard is very high. My current personal best, which I ran at the British Champs last year, is 48.88.
'My fitness is very good. I'm running better than I ever have so I'm very pleased with my consistency and to already be seeing slight improvements on last season. I am working to peak in August in time for the World Championships however I'll need to be in some serious shape around June/July time so I can qualify for the main competition.'
Off the back of a hugely successful 2022, Ala has some equally ambitious goals for 2023. On top of aiming to be British Champ for the fourth consecutive year, he's striving to run a sub 48.50, win an Island Games medal and, if he can qualify for Worlds, make the semi-final.
'Worlds would be the season highlight for me because it's one of the highest competitions against the best in the world; but competing in a home Island Games will be one I'll never forget.
'The Games are such an amazing opportunity for young athletes to race at an international level. They really helped me transition into the professional athlete I am now, so it'll be an honour to race on my home track in front of friends and especially family, who were there supporting me from day one,' added Ala.