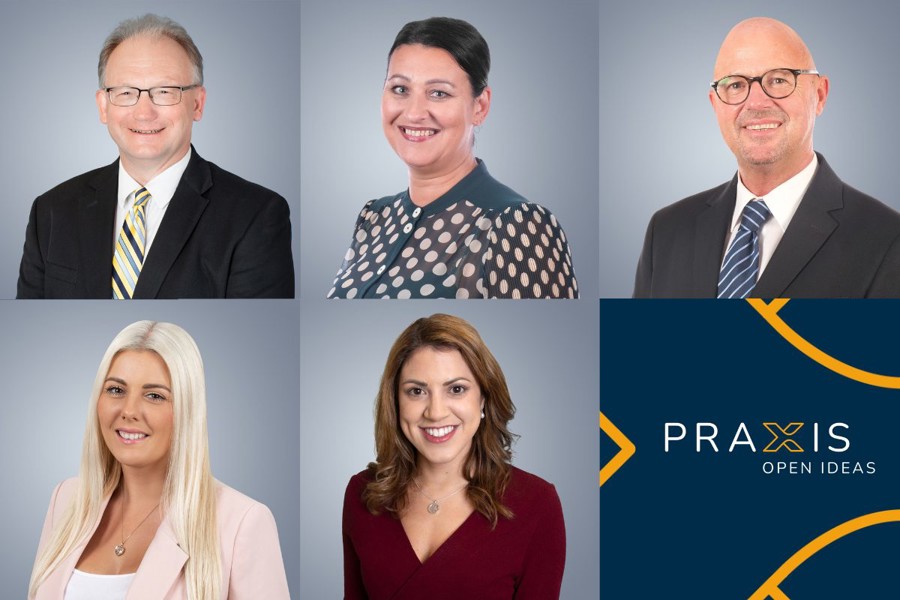 Clockwise from top left: Robin Smith, Victoria Sloan, David Dorrity, Donna Shorto and Ava Fairclough
Five senior appointments for Praxis
Praxis has made a number of senior appointments as it enters the new year.
The changes closely follow the unveiling of the firm's new brand at the end of 2022, which formed part of the Group's 50th anniversary activities.
Well-known fiduciary practitioner Robin Smith has been appointed Managing Director of Praxis in Guernsey, having previously held the role of Group Finance Director of Nerine Group, which was acquired by Praxis in 2018. Robin was of one of Nerine's founding partners and recently celebrated 25-years with the business.
David Dorrity and Victoria Sloan have been appointed Directors in Praxis' growing pensions and employer solutions division. Based in Guernsey, they will be responsible for unifying and developing the various pension and employer solutions businesses that sit under the Praxis Group banner. Prior to joining Praxis, David worked for more than 15 years at another leading fiduciary services company and was responsible for substantial global pension arrangements, while also specialising in retirement solutions for clients in the Middle East, the US and South Africa. Victoria's previous role was Head of Trust Accounting for a global bank where she established the local ESG committee and was a co-founder of the Guernsey Green Forum, an online group that was created to share resources and knowledge to benefit the local environment.
Ava Fairclough has taken on the role of Managing Director of Praxis UK, where she will be responsible for the development and growth of the Group's UK private wealth and corporate services divisions. Ava, who joined Praxis in June 2022, takes over from Donna Shorto who has been with the Group since 2015 and who has returned to Praxis in Guernsey where she has taken up a senior position as Director in the Private Wealth division.
John Medina, Praxis' Group Head of Private Wealth, said: 'These senior appointments represent an exciting mix of new talent and long-standing, valued members of the team. Ava is already making her mark and we look forward to supporting her in this pivotal role as she heads up our growing London team. Robin and Donna are both highly respected and experienced members of the fiduciary sector, and the Group will continue to benefit from their invaluable expertise, vision and drive.'
James Barber-Lomax, Praxis' Group Head of Pensions & Employer Solutions, added: 'David and Victoria are superb additions to the leadership of our pensions business and will play a significant role in supporting our growth ambitions as a number of key growth initiatives come to fruition in 2023.'