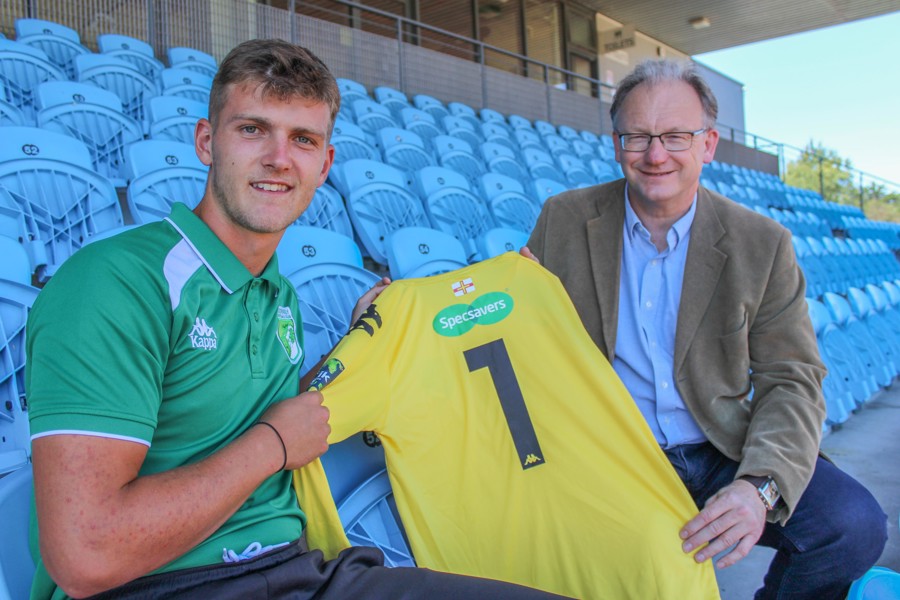 GuernseyFC goalkeeper receives PraxisIFM support
Guernsey Football Club's ambitions for the 2019/2020 season in the Isthmian League Bet Victor South East Division have been boosted with the support of PraxisIFM.
Our sponsorship of Callum Stanton the club's 'Young Player of the Year' for the 2017/18 season and 'Fans' Player of the Season' for the last two years running will support the UK-based goalkeeper with his expenses in travelling to and from matches.
The club believes that Cal's expertise stability and consistency his return brings to the squad is crucial.
PraxisIFM Group Chief Operating Officer Kevin Scott said: 'News of Cal's return to GFC for the new season is fantastic for the club and fans. As a company employing 200 staff in the island we're really pleased to be able to support his commitment to the club.'
Our support of GuernseyFC extends to player sponsorship of centre back Tom Strawbridge who has re-signed with GFC for the 2019/20 season. Tom joined PraxisIFM in 2009 and is now Senior Trust Manager. He more often than not makes himself available for midweek away matches and we're pleased to be able to give him the flexibility in his working hours to do so.
GFC was formed in 2011 to offer the island's top footballers the opportunity to progress and test themselves on a regular basis outside of the Channel Islands.
It is an independent community amateur football club which is owned and run for the benefit of the local Guernsey community.
The club's vision is to create develop and maintain a sustainable successful financially viable democratic football club that creates and maintains real and lasting benefits to its members and the local Guernsey community. It is a registered charity and will remain a non-profit organisation with any financial surpluses being re-invested for the future viability of the club and hence the benefit of the local community.