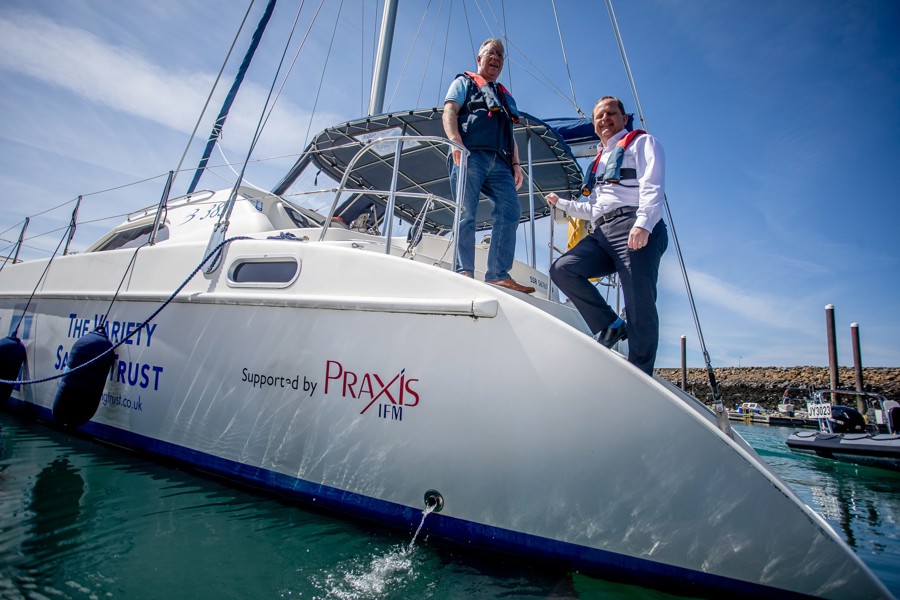 Praxis all aboard with Variety Sailing Trust sponsorship
Praxis has become local Jersey Charity the Variety Sailing Trust's main sponsor.
The Variety Sailing Trust was established 28 years ago in partnership with the Government of Jersey Youth Service with the aim of providing sailing opportunities for disadvantaged young people and children with special needs. The charity operates a 38-foot catamaran called Vernon Lilford Spirit of Variety that has been modified to allow disabled access. Although now working independent from the Youth Service the Trust has continued its work enriching lives with sailing experiences.
Having supported the charity since 2018 by providing necessary funding for boat maintenance Praxis has taken its support one step further becoming the Trust's main sponsor. The Group will support the charity by helping to cover increasing operational costs such as insurance mooring and maintenance fees.
Richard Kearsey Managing Director of PraxisIFM Trust in Jersey said 'The Variety Sailing Trust has held a special place in our hearts for a few years now so when the opportunity arose to take our support to the next level we were fully onboard. Its work is invaluable to the community and we want our support to reflect that. We also hope to get our team down to the dock in summer to help with the boat's maintenance lending our hands where we can cleaning polishing and painting.'
Variety Sailing Trust Trustee and Chairman Bernie Manning said 'Praxis has been a fantastic corporate partner to us in recent years so we're very excited that the Group has become our main sponsor. There are many operational costs that are associated with our day-to-day work from training the crew to keeping the yacht shipshape and safe for use. Dedicated sponsors such as Praxis are undoubtedly key to continuing our work and keeping the experiences free to enjoy.'