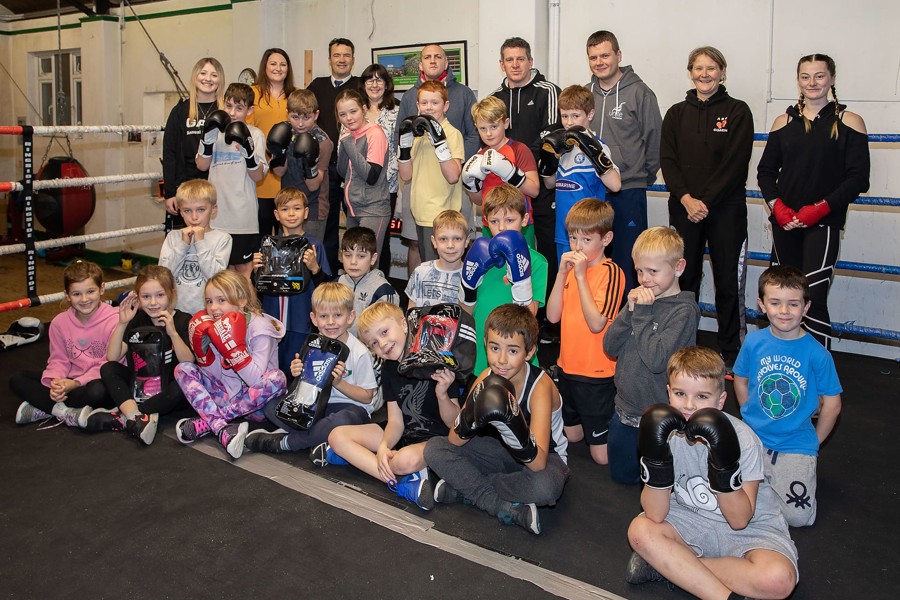 Praxis gives young boxers a boost
More young people are able to attend training sessions at the Guernsey Amalgamated Boxing Club thanks to a donation from Praxis.
The 1500 donation was made as part of the financial services company's charitable committee's support of island initiatives.
The funds have been split with half being used to buy gloves and head guards and 750 has been used to create a travel fund. The club will use the travel fund to support youngsters who would otherwise be unable to attend off island training and competitions.
The Guernsey Amalgamated Boxing Club was established in 1935 and provides a safe place for people of all ages to learn and develop their boxing skills. Around 100 young people aged between seven and 17 attend weekly training sessions which are all run by volunteers.
Head Junior Coach, Mandy Hobart said that the number of young people attending the club has increased significantly in the past five years and is now open every day of the week. She believes the club has attracted so many new members because of the enthusiasm of the volunteers together with higher awareness in the media of the physical and mental benefits.
'As well as improving general fitness balance and co-ordination skills boxing has also been proven to benefit children mentally too' said Mandy. 'Boxing can help their self-esteem and self-confidence together with increased focus and listening skills and their ability to work as a team and improve their self-discipline.
'The funds donated by Praxis will help to make sure we don't have to turn away any young person who wants to train.'
Janine Lewis from Praxis's charity committee added: 'Mandy and the other volunteers do some amazing work with the youngsters and by donating the funds we're delighted to be able to make the club as inclusive as possible' she said.