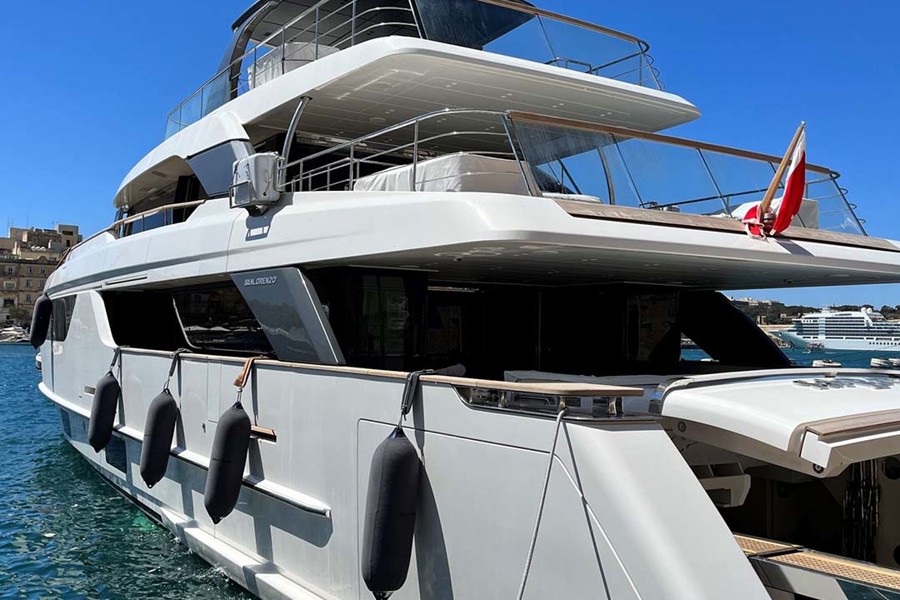 PraxisIFM facilitates key services in purchase of Italian superyacht to European client
The team led by Alex Beetham Managing Director at the Maltese office of PraxisIFM Group has successfully facilitated the purchase and delivery of an Italian 35.75m superyacht to a European client.
Leveraging its extensive yacht ownership services the PraxisIFM team worked closely with the yacht management team for the entire process starting from the initial order and will provide ongoing services while the vessel is used on luxury yacht charters. The five-cabin superyacht is based in the Mediterranean for the summer charter season.
Alex has over 16 years' experience in the superyacht and aviation industry and has been working with PraxisIFM since 2021 following the Group's acquisition of yacht ownership services company Abacus Corporate Services (Abacus) where he worked for four years prior as a Client Services Director.
His previous experience in specialist superyacht and aviation services came during his time working in the Isle of Man registering yachts in a number of international jurisdictions focusing on key services such as invoicing VAT returns insurance applications and issuing power of attorneys. He has brought this level of expertise to his work at PraxisIFM administering portfolios of high-net-worth individuals and has hit the ground running moving from Operations Director to Managing Director in February 2022.
A global financial services business PraxisIFM established a presence in Malta during 2008; followed by the introduction of Trireme Pension Services in 2013 and private wealth and corporate services in 2015. Since acquiring Abacus in 2021 PraxisIFM Trust Limited provides services to high and ultra-high net worth yacht owners from initial vessel incorporation and registration through to ongoing support including bookkeeping and accounting statutory administration and registered office and agent services.
On the success of the transaction for a highly regarded client Alex Beetham commented: 'I am highly passionate about businesses and facilitating their growth in a multitude of ways. At PraxisIFM we use a vital level of administrative services to be the catalyst between our clients and their ambitions. The purchase of a superyacht is a complex collaborative multi-jurisdictional effort and requires key financial framework from a variety of locations. By harnessing Malta's financial legislation we were able to see the acquisition of this superyacht from its conception in the Italian shipyard to its first voyage.'
PraxisIFM will provide its own ongoing administration services and work in partnership with other providers to assist with other yacht-related issues including European VAT registrations insurance legal advice and reviews.
For information on our yacht services please contact Alex.
PraxisIFM Trust Limited is licensed by the Malta Financial Services Authority and authorised to act as a trustee and to provide other fiduciary services (including acting as an administrator of private foundations) in terms of Article 43 of the Trust and Trustee Act.