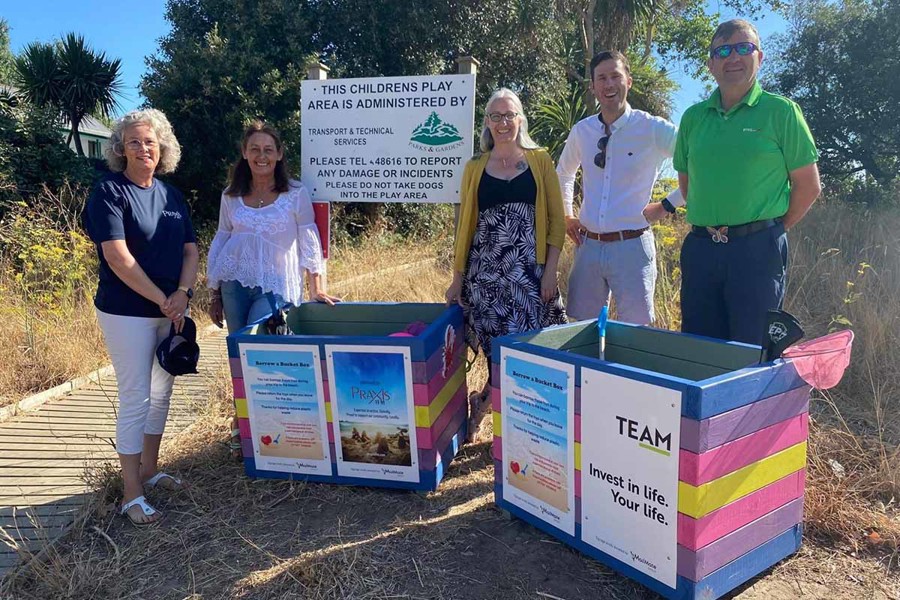 PraxisIFM helps bring Borrow a Bucket Boxes to Jersey beaches
Children will soon have even more motivation to get to the beach this summer as a number of 'Borrow a Bucket Boxes' land on Jersey's shoreline.
Driven by local environmentalist Louise Carson and project partner Tara Dolan the Borrow a Bucket boxes will host a variety of beach toys like buckets and spades fishing nets footballs cricket sets and boules which the public are invited to borrow during their trip to the beach and return to the box when they leave.
With PraxisIFM's support as one of the scheme's key sponsors 12 boxes will be placed around the island at Jersey's most popular bays.
Already involved in several sustainability-focused projects locally Louise was inspired once again to bring this environmentally-friendly initiative to life.
'I saw this idea operating around the world on Facebook and thought it would be a fantastic idea for our beaches too! I'm very passionate about reducing plastic waste in as many ways as possible and the boxes are a great way of reusing pre-loved toys and minimising the amount that ends up in the landfills. It also supports people on limited budgets giving them the opportunity to borrow items they might otherwise not be able to afford' said Louise.
'Many visitors buy buckets and spades to use during their holiday and can't necessarily keep them to reuse and I'm sure islanders do too when storage isn't easy. Unfortunately these tend to end up in the waste cycle rather than being reused for the duration of their useful life.' Tara explained.
La Collette Household Reuse and Recycling Centre has been collecting buckets and spades from the waste stream since last autumn which it is hoped will be the main source of toys for the boxes going forward.
Extending the sustainability of the scheme even further the boxes are being made by local charity Acorn using recycled wood where possible. The boxes have a printed QR code on the side which people can scan to be taken to the scheme's Facebook page. Here the public can keep up to date on the locations of new boxes and get lots of inspiration for seaside fun. They are also inviting Islanders to send in their beach photos to feature on the page too.
Daniel Reynolds Managing Director of PraxisIFM in Jersey said: 'The Borrow a Bucket boxes are a wonderful idea that supports our community in more ways than one. Not only does the scheme reduce waste it also beautifully fosters our close-knit community spirit and will make the island's beaches a more inclusive place to be.'
'I'm always so pleased that the people of Jersey come together to support initiatives like this so generously. I'm very thankful to our sponsors who's funding has enabled this project to be brought to life' added Louise.
Louise and Tara are also working to develop a group of regular beach walkers around the island who can help make sure the items are not left on the beach and to monitor the content of our boxes. If that's something you might want to help with please contact louisecarson@outlook.com.
The scheme has also been supported by TEAM Asset Management Mailmate and Tim Townsend from Alex Forbes.