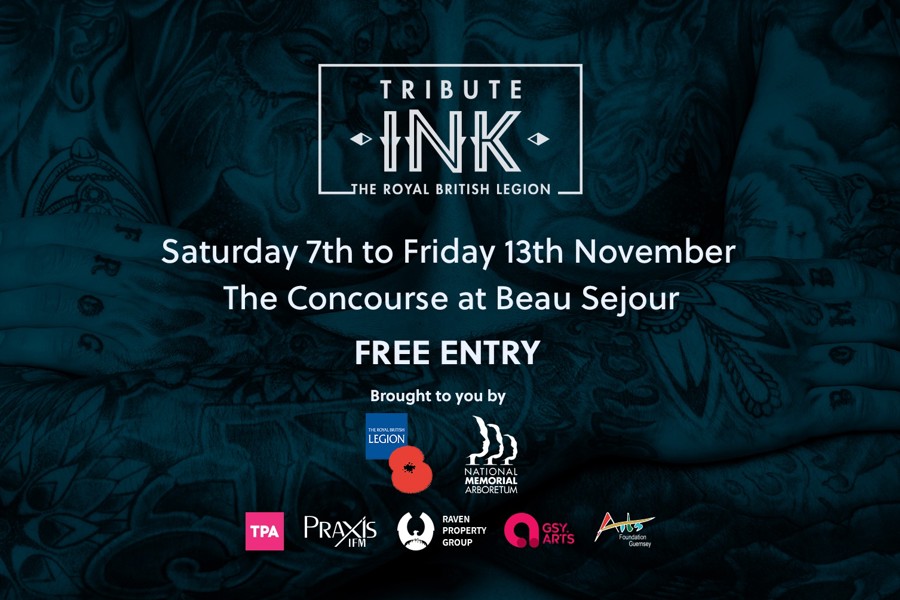 PraxisIFM supports Remembrance exhibition
A free exhibition exploring how tattoos play an important role within the Armed Forces community will mark this year's annual Remembrance events in Guernsey.
The Royal British Legion together with the National Memorial Arboretum has worked with the Royal Navy British Army and Royal Air Force to uncover how tattooing remains an emotional and meaningful act of Remembrance alive in our Armed Forces today.
The RBL (Guernsey) with the support of sponsors PraxisIFM TPA Raven Property Group Guernsey Arts Commission Arts Foundation Guernsey and the States of Guernsey (Culture and Heritage) has the privilege of bringing the exhibition to Guernsey in November this year.
Tattoos have a long history in the military and have been inscribed on the skin of warriors for thousands of years.
'This exhibition will give people the chance to discover how tattoos have become a key role in the Armed Forces community as a personal act of Remembrance a statement of belonging or a record of significant events and operational tours. They are a permanent reminder of the wearer's experiences triumphs and losses and commemorate those who have sacrificed for our country' said Marlene Place from the RBL.
Craig Daniell was medically discharged from the RAF and wanted a tattoo to tell the story of his life and his fallen comrades. His tattoos include a poppy as well as the name of his friend Ryan Tomlin who was killed on patrol in Afghanistan aged 21. 'For me my tattoo is a visual memory of my time in service' said Craig. 'It allows me to commemorate those I lost along the way and reminds me of how lucky I am to be here today.'
Tribute Ink originally launched in the UK in late 2019 and was due to go on tour around the nation in 2020 however COVID-19 has put those plans on hold until further notice.
Former Royal Marine and PraxisIFM Group Chief Executive Officer Rob Fearis said the timing of the exhibition was particularly poignant. 'Remembrance Sunday falls the day after the exhibition opens and for many people this is a time to reflect and remember the sacrifice made by so many. I'm pleased that our support is enabling this exhibition to be staged and accessible to all islanders.'
'We're thrilled to have helped bring the exhibition to Guernsey. Our community has a one-off opportunity to discover the stories of military personnel and how they commemorate key events of their life in a unique and personal way' stated Tony Tostevin Chief Executive of digital creative agency TPA.
Mark Sinclair of Raven Property Group said 'Tribute Ink allows us to discover a different side to Remembrance this year. From Captain Cook's Sailors in the 1770s to people serving in the military today this exhibition has something for everyone to enjoy.'
The Guernsey Arts Commission are also proud to be supporting this important and powerful exhibition and to quote the words of Former Household Cavalry Officer Alex Owen who now works as Military Liaison for The Royal British Legion 'We would urge everyone to come and see the inspiring modern stories of Remembrance living on the skin and in the hearts of our servicemen and women today.'
The free exhibition will be at Beau Sejour and open to the public between 9am and 9pm between Saturday 7 November and Friday 13 November 2020. More information is available from the British Legion website.
[video width=1080 height=1080 mp4=https://cdn.praxisifm.com/media/20211206162019/Tribute-Ink-Square.mp4][/video]