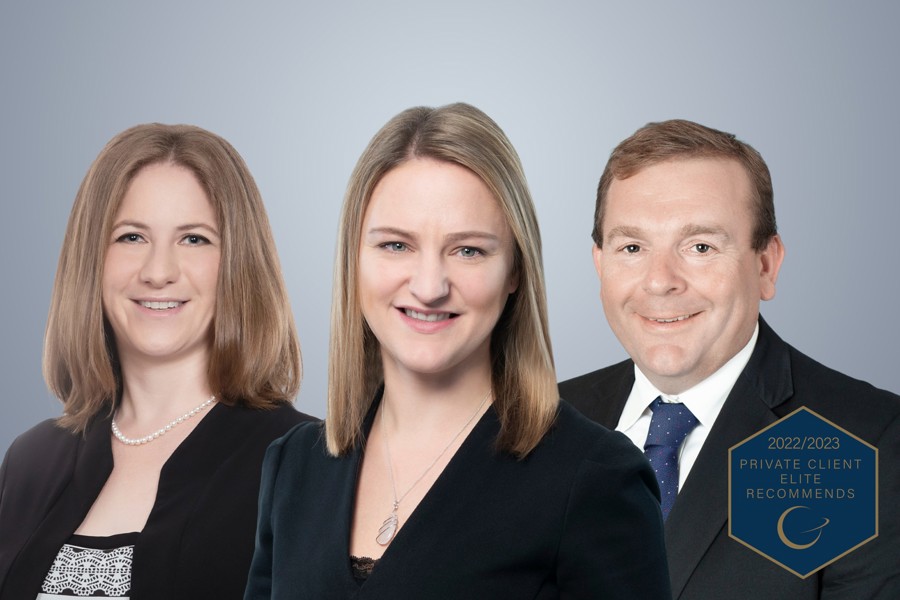 PraxisIFM trio 'elite recommended'
Three PraxisIFM directors have been featured in the 2022 Private Client Global Elite Directory on its Elite Recommends list.
Managing Director of our Hong Kong office Joanna Caen and Guernsey-based directors Melanie Ison and Jonathan Bailey have been selected out of more than 6000 entries to feature in an exclusive list of the world's top 150 private client professionals as recommended by their industry peers.
The highly respected Directory now in its fifth year comprises a prestigious list of leading advisers including accountants asset managers trustees and family office experts who work with UHNW clients as well as rising stars within the industry.
Joanna joined us in 2020 after spending 13 years as a practicing solicitor in New Zealand and Hong Kong. Throughout her career she has focused on helping clients protect and grow their assets through on or offshore corporate trust or foundation structures. Jo is presently Chair of the Society of Trust and Estate Planning (STEP) in Hong Kong. In addition to being recognised on the Global Elite Elite Recommends.
Melanie has worked for the Group since 2009 bringing with her 10 years of fiduciary experience working in two major financial districts. She became the Managing Director of Nerine in Hong Kong office prior to its acquisition by PraxisIFM in 2018 before returning to Guernsey as a Director for the private wealth and corporate business in 2020. The Global Elite listing will add to a number of professional accolades that Melanie has received in the last decade from Citywealth Leader List features to being shortlisted on the International Finance Centres Power Women Top 100 and singled out for praise in the Chamber High Net Worth 2020 rankings.
Jonathan also a qualified solicitor joined the Group in 2013 as the Managing Director of our BVI office. During his time in the BVI he served as vice-chairman of STEP BVI and was a director of BVI Finance Limited. Jonathan relocated to Guernsey four years ago but continues to advise on BVI structures in addition to his Guernsey-focused role. This is Jonathan's second consecutive feature on Elite Recommends.
Rob Fearis
CEO of PraxisIFM said 'To have three PraxisIFM professionals feature on such a well-regarded list of the world's top advisors is an amazing achievement. Our industry places immense value on peer recommendations; a client wants to build a rapport with their adviser which goes beyond just being an excellent technical practitioner. Joanna Melanie and Jonathan have all built well-deserved exceptional reputations and are brilliant ambassadors for the Group.'