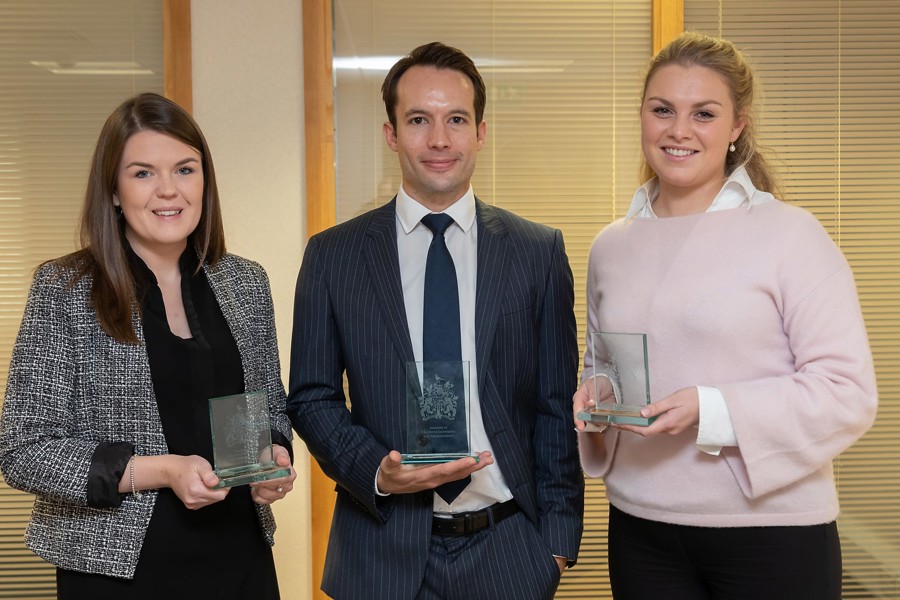 Success at ICSA Guernsey Awards
PRAXISIFM'S company secretarial team secured a hat-trick of awards at this year's prestigious ICSA Annual Awards Dinner on Friday 9 November.
The awards celebrate the achievements of ICSA students and members during the year. All three award winners are part of Praxis Fund Services' (PFS) company secretarial team. Company Secretary of the Year Matt Falla was recognised for his thought-leadership and knowledge of the complex legal and regulatory environment.
Mr Falla was studying for his ICSA chartered status when he joined PraxisIFM in 2011 since then he has qualified as a chartered secretary become an Associate of ICSA and been promoted to Senior Manager responsible for a growing team.
In their citation the ICSA judging panel said: 'Matt often goes above and beyond to continuously exceed expectations and he is highly regarded by clients and peers as being proactive dedicated and communicative with an extensive knowledge of various corporate governance codes. Matt leads a team of company secretaries and is a key team player looking after staff ranging from trainees to experienced team members enabling them to fully develop their knowledge and skills.'
The 'One to Watch' category was awarded to company secretarial administrator Gwendolyn Norman. Miss Norman joined the team as assistant company secretarial administrator in 2016 and was promoted within a year. The ICSA judges said that Gwendolyn has developed strong relationships with colleagues and has demonstrated true commitment to the role. 'Exam passes to date have included merits and distinctions and her studies are continuing. Although only less than two years into her career she has demonstrated a clear dedication to her work and the ability to grow further' said the panel.
Student of the Year Gemma Woods was recognised for her recent exam success. A senior corporate secretarial administrator Miss Woods submitted the best paper globally in the ICSA International Finance and Administration Level 4 Core Modules. The ICSA panel commented: 'It is vital for Guernsey's continued success as an international finance centre to continue to have high quality students coming through the ranks. Gemma is one such student.'
PraxisIFM Group Chief Operations Officer Kevin Scott said that offering quality corporate governance services was vital. 'As a Group we are committed to providing our employees with the training and development opportunities they need to provide our clients with the best service' said Mr Scott. 'These ICSA awards are great recognition of Matt Gwen and Gemma's hard work and commitment and we are very proud of them.'
PFS is one of the largest independent fund administrators providing administration and services to 20 London listed funds and a large client base of private funds and investment vehicles.