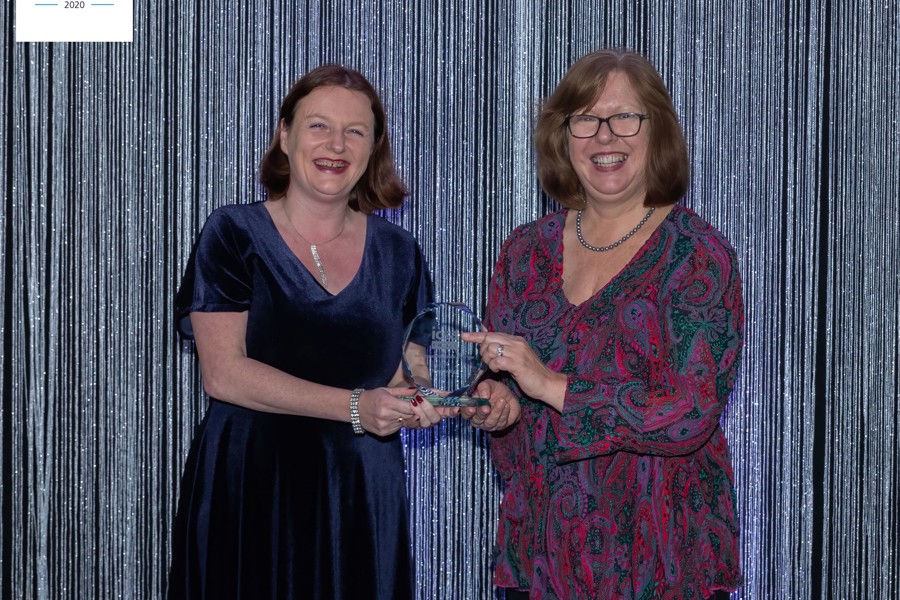 Institute recognition for PraxisIFM Group's Company Secretary
Shona Darling
Group Company Secretary at PraxisIFM in Guernsey has been awarded Governance Professional of the Year 2020 by the Guernsey branch of The Chartered Governance Institute (ICSA).
ICSA which has over 34000 members and students worldwide is the qualifying and membership body for governance professionals. The Institute works with regulators and policy makers to champion high standards of governance and develop the value skills and effectiveness of company secretaries and governance professionals.
Each year ICSA hosts regional awards and this year the Guernsey awards were held at the Duke of Richmond Hotel on Friday 13 November. The annual dinner and awards evening recognises and celebrates the achievements of Guernsey's top governance professionals and corporate service providers.
Dr Nicola Brink MBE Guernsey's Director of Public Health virology expert and leading force behind Guernsey's response to the COVID pandemic was the guest speaker at the event and presented the winners with their awards.
Shona who joined PraxisIFM in 2010 after building up 18 years' experience within the Scottish finance industry was one of seven professionals to receive an award at the event. She is responsible for all company secretarial matters relating to PraxisIFM Group Limited which is listed on The International Stock Exchange.
Paul Smith Chair of the Institute's Guernsey Branch said: 'The Awards celebrate the accomplishments of members and students in the field of governance. This year we are particularly proud of the achievements of our members and students who have shown great fortitude and pragmatism in the face of extremely challenging circumstances. COVID-19 has had a huge impact on business and the world of work not to mention the impact on people's lives in general.
'The amount of work that our members have had to do in order to ensure that good governance practices have been maintained while businesses adapt to the 'new normal' has increased substantially and we couldn't be prouder of their efforts.'
PraxisIFM Chief Executive Officer Rob Fearis said: 'Shona is a very deserving winner of the Governance of the Year award. Her experience hard-work and commitment to maintaining the highest standards of governance have only been amplified by the pandemic and her response to these challenges and new ways of working. Shona has added tremendous value to the team and business and shown true professionalism and resilience to working under extraordinary circumstances. Congratulations Shona.'