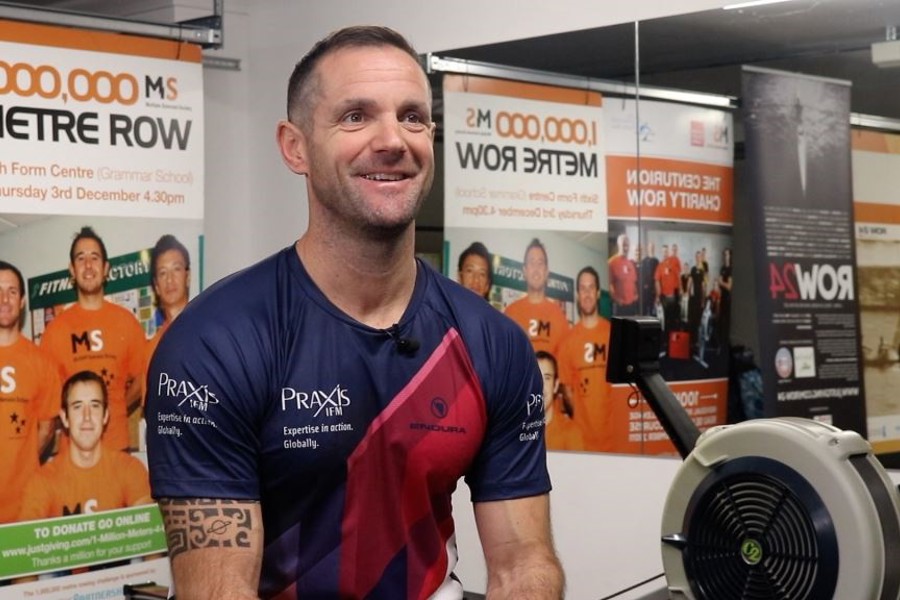 PraxisIFM supports employee to go the extra mile in world record attempt
PraxisIFM is proud to be the main sponsor of local rower and valued employee Simon Johns as he attempts to break the world record for distance completed in a 24-hour solo indoor row.
The challenge which will be raising money for charity will take place on 13 and 14 November 2021.
Proceeds raised for the challenge will be donated to Simon's chosen charities Bright Tights and the Premature Baby Foundation. So far he has raised almost 4000 and has received online support from three-time world racing champion Andy Priaulx.
The current world record
for the men's 40-49 lightweight category set in 2006 stands at 280.541km. By comparison 280km is roughly the equivalent of rowing from Sark to Jersey 11 times.
The current British record
for the men's 40-49 lightweight category stands at 234.039km and was set in 2009. This roughly equates to the distance from Guernsey to England's south coast and back.
Simon is an accomplished rower
having previously broken both the world and British 24-hour indoor rowing record for the Men's 30-39 Lightweight category with fellow teammate James Coquelin.
Simon commented: I've had my eye on this challenge for ten years after a previous charity row back in 2011. I've been specifically training for this since the first lockdown in early 2020 and in that time I've rowed 7.5 million metres further than London to Miami.
Bright Tights and the Premature Baby Foundation are two charities that are close to my heart. Both have provided invaluable support to the families of two of my close rowing friends. Having experienced first-hand how our local community benefits from the great work these organisations do I want to give something back to them.
Robert Fearis Chief Executive Officer of PraxisIFM said: We're excited to be the main sponsor for Simon as he undertakes such an arduous challenge that tests his physical and mental strength. We're always proud of our local team and Simon exemplifies the hardworking determined and generous person we look to hire. The Premature Baby Foundation and Bright Tights charities rely on the aid of islanders and local businesses so we are happy to support them by backing Simon. The money he raises will benefit many people who require the services these great causes offer. Good luck Simon; we're all rooting for you at PraxisIFM.
You can support Simon by visiting his donation page: https://giving.gg/donate/event/9054/Row24-Solo---Simon-Johns