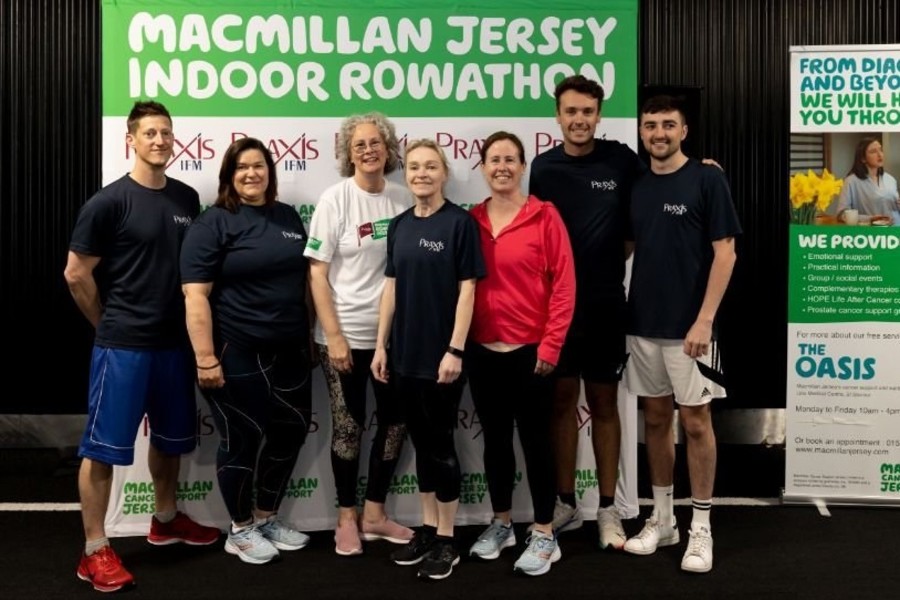 The 2022 Praxis Jersey Rowathon team
Pull together with the 2023 Macmillan Jersey Rowathon
Praxis is supporting the 2023 Macmillan Jersey Rowathon in its bid to raise thousands of pounds for the local charity.
After the success of last year's event the fundraiser will take place on Saturday 22 April 2023 at Transform Together Fitness, St Saviours.

Fifty men's, women's or mixed teams of six will row the equivalent distance of Jersey to Sark (30,000m) on an indoor rowing machine, with a leader board tracking their progress.
Daniel Reynolds, Praxis' Managing Director in Jersey said: 'We're very excited to be backing the Rowathon again this year. We love getting involved, not just from the sponsorship side of things but also getting a team together and taking part. The day is always buzzing with energy and it's great to see so many people coming out to support Macmillan and celebrate the fantastic work they do. Rally your friends, family, colleagues, gym buddies, sports team, and anyone else who can take a turn, together and enter a team to help out this brilliant charity.'

Kevin Alway – Operations and Communications Manager for Macmillan Jersey said: 'The Macmillan Jersey Rowathon is a great way for businesses, friends and families to come together and have fun, whilst helping us raise essential funds for our local charity. We're very grateful to Praxis for sponsoring the event again, Cameron and the team at Transform Together for letting us use their incredible venue, and for all the local businesses offering their rowing machines, screens, and equipment – but also their time and expertise. They really make such a difference – and in turn help us to keep providing emotional, practical and wellbeing support to any islander affected by cancer, in any way.'

Registration for the event will be of £450 per team, with the hope that many teams will do their own fundraising and employer matched funding to boost their team's offering. 

Further details on the Macmillan Jersey website.